Evesham Township Police History and Vintage Photos...page 2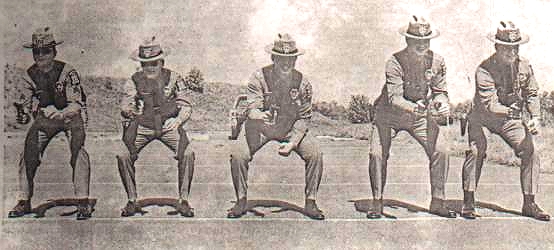 Evesham Police officers posing at the target range at the Civil Defense Center on Tomlinson Mill Road in 1967.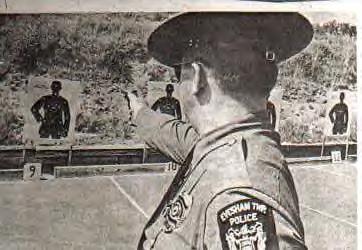 Afterward, Joseph Leedom demonstrated his skill at the range.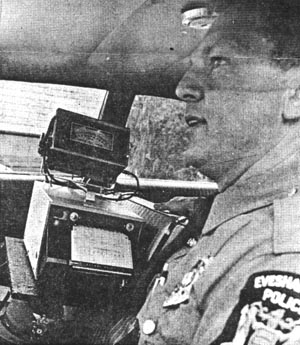 Evesham Police began using radar to keep track of traffic and monitor speed in 1967. In this photo Sergeant Leedom demonstrates the newly installed equipment.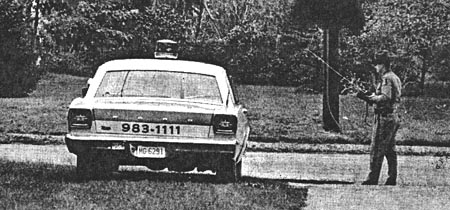 Farther down the road Patrolman Walter Ward awaited word of any speed offenders.

   Note Evesham's old emergency number on the back of one of the Department's 1966 Ford patrol cars. 983-1111 can be used today for non-emergency calls as 911 replaced this number in the early 1990's for emergencies.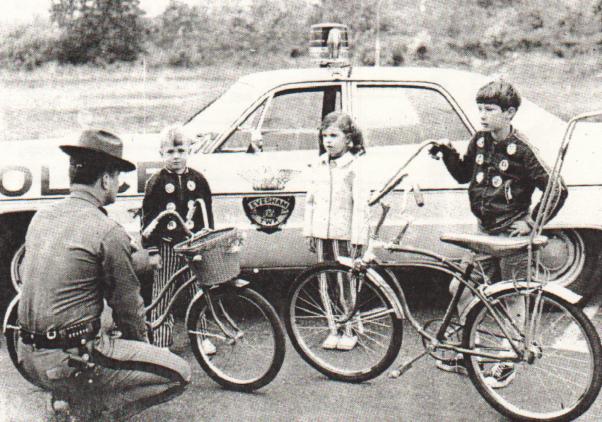 In this 1971 photo, Officer Robert Dugan conducts bicycle inspections. This was a yearly event to promote bicycle safety to children. Bicycles were tagged with an ID number so the owner of a bike could be identified.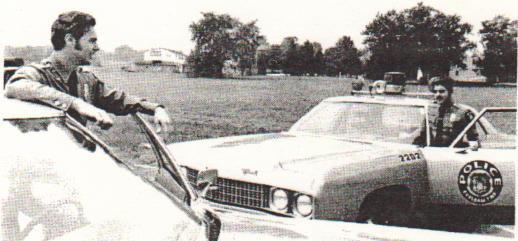 As this 1973 photo shows, the Department used Chevorlets for patrol during the mid 1970's. The circular emblem was used through the early 1980's. Shown here are Patrolmen Harry Hertfelder (left) and Bobby Yerrica discussing developments.

In the mid 1980's, the Department used Ford Crown Victorias for patrol, with Whelen twin strobe light bars.

   Prior to this, Dodge Diplomats were used. The Diplomats had a black and grey color scheme and the round insignia shown in the above 1973 photo.



Later In the 1980's the Department had a fleet of Chevy Caprices. First the chisled-edged version shown here, then the rounded version in the early 1990's. The light bar shown here is a Condor II built by Serchie Labs of Medford NJ. With the demise of the Caprice model, the Department switched back to Ford Crown Victorias in the late 1990's.

   Today, Evesham Police uses a fleet of Crown Victorias and Dodge Durangos with a black and white color scheme and triangle insignia, a white version with a horizontal black stripe and white Ford Explorers for patrol.